After tweets by the actors saying that they were going into production soon, I am excited to announce that Season 2 of Henry Danger is in now in production. They just started today June 22, 2015. We have no idea when this season will start to air, but keep in mind it takes 5 days to complete 1 episode of the show.
Here is the brief run down for a single episode, two part episodes take two weeks to film.

Monday- Table read/Run-through
Tuesday-Wednesday Run-through
Thursday-Friday Taping of the episode.
Dan's New show Game Shakers will be filming with season 2 of this show. That is is expected to be at least 8-9 episodes in already.
Hope everyone is excited for season 2?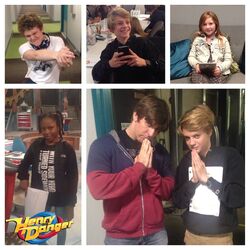 Ad blocker interference detected!
Wikia is a free-to-use site that makes money from advertising. We have a modified experience for viewers using ad blockers

Wikia is not accessible if you've made further modifications. Remove the custom ad blocker rule(s) and the page will load as expected.