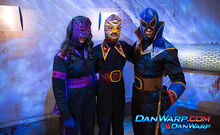 The Three Muchachos are a trio of Canadian criminals who represent their country and came to Swellview dressed in Mexican wrestling costumes. Captain Man and Kid Danger were able defeat them in Junk N' Stuff via Man Cave gadgets.
The Muchachos are tied inside the Man Cave but refuse to talk. However Captain Man sends Larry, who smells like onions and sweat, to hug them tight and get them to talk, breaking the female muchacha to tell them about their plan to attend a villain meeting in Swellview. They are sent to prison and the heroes take their costumes to disguise themselves when they head for the secret villain hideout in Lake Swellview, along with Phoebe Thunderman (originally Charlotte).
Trivia
One of few villains who know where the Man Cave is located.
Ad blocker interference detected!
Wikia is a free-to-use site that makes money from advertising. We have a modified experience for viewers using ad blockers

Wikia is not accessible if you've made further modifications. Remove the custom ad blocker rule(s) and the page will load as expected.