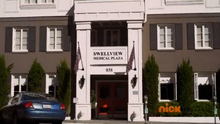 Swellview Medical Plaza is a place seen in Super Volcano.
History
Piper Hart went here because she had a problem with gluten. The doctor said she likes spaghetti but it has gluten in it, so she must not have an issue with gluten. Piper tells the doctor he ruined her social life.
Trivia
Ad blocker interference detected!
Wikia is a free-to-use site that makes money from advertising. We have a modified experience for viewers using ad blockers

Wikia is not accessible if you've made further modifications. Remove the custom ad blocker rule(s) and the page will load as expected.