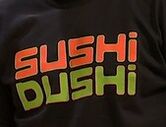 Sushi Dushi is a sushi restaurant in Swellview where Henry and his family often receive food from at their home. The restaurant's number one employee is Carlos. The restaurant itself has never been shown, but Carlos delivers the food.
Appearances
Ad blocker interference detected!
Wikia is a free-to-use site that makes money from advertising. We have a modified experience for viewers using ad blockers

Wikia is not accessible if you've made further modifications. Remove the custom ad blocker rule(s) and the page will load as expected.