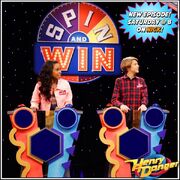 Spin and Win is a TV show seen in Let's Make a Steal. Henry was a contestant in one of the episodes of the game show. Rick Richards hosts the game show. His children Derek and Maddy were the thieves who robbed the prizes from the winning contestants. Captain Man and Kid Danger fought Derek and Maddy and they soon went to jail.
Ad blocker interference detected!
Wikia is a free-to-use site that makes money from advertising. We have a modified experience for viewers using ad blockers

Wikia is not accessible if you've made further modifications. Remove the custom ad blocker rule(s) and the page will load as expected.