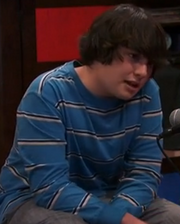 Ron is Jasper Dunlop's friend that he interviewed for his bucket podcast in the episode The Space Rock. Henry Hart and Piper Hart came in because Piper was upset about the new Ginger Fox music video not uploading and it was free for an hour until that moment. Jasper said Piper had an attitude problem to which she attacked him and Ron exited with Jasper to get away from Piper.
Ad blocker interference detected!
Wikia is a free-to-use site that makes money from advertising. We have a modified experience for viewers using ad blockers

Wikia is not accessible if you've made further modifications. Remove the custom ad blocker rule(s) and the page will load as expected.