Welcome to the Henry Danger Wiki!
Welcome to the official Henry Danger Wiki, a collaborative encyclopedia for everything and anything related to the brand new Nickelodeon original series, Henry Danger.
Today is June 29, and there are currently 22,280 edits to this wiki.
About the Show
Henry Danger follows 13-year-old Henry Hart (Jace Norman) who lands a part-time job as Kid Danger, a sidekick-in-training to super crime fighter Captain Man (Cooper Barnes). Their colorful adventures throw Henry's otherwise ordinary life absurdly out of balance, yet he must keep his new job a secret from his best friends Charlotte (Riele Downs) and Jasper (Sean Ryan Fox). Ella Anderson also stars as Henry's little sister, Piper.
"
Henry: It all just kinda happened.
Captain Man: My dad was an irresponsible scientist.
Henry: I wanted an after school job.
Captain Man: And by accident, he made me indestructible.
Henry: I went to this crazy store and I met a pretty interesting guy.
Captain Man: 'Then, I'm gonna blow your mind.' Now, I protect the good citizens of Swellview. They call me...
Henry: And he turned out to be...
Captain Man: You know the name.
Henry: 'Captain Man!'
Captain Man: 'That's right, Henry.' In time, I realized that being a superhero's a lot to handle alone.
Henry: He wanted some help.
Captain Man: I needed a sidekick.
Henry: 'I, Henry Hart...'
Captain Man: '...pledge to never ever, ever tell anyone...'
Henry: '...that I'm Captain Man's secret sidekick.'
Captain Man: 'It is done.'
Henry: Now we blow bubbles...
Captain Man: ...and fight crime.
Henry: 'Feels good.'
"

— Henry and Captain Man's opening monologue.
Featured Article of the Month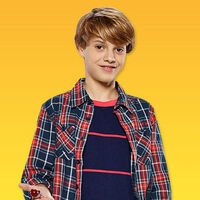 Henry Hart (aka Kid Danger) is the protagonist and titular character in Henry Danger. He fights crime in his hometown, Swellview, with Captain Man, under the alias Kid Danger. He attends Swellview Junior High along with his friends Jasper and Charlotte.
Polls
Do you like Henry Danger?
What made you interested in the show?
Who do you think was the better Kid Danger?
Are you excited for season 2 of Henry Danger?
Help Out
To upload a picture, click here
To write a blog, click here
To write a new article, just enter the title in the box below.
Recent Blog Posts
Create blog post
Latest Blog Posts
I keep having nightmares about this show ending, idk if that's normal? Has anyone else ever had nightmares about this show ending? O_o

Read more >

Captain man LOVES Henry's mum. WHY?! Is my question is it the blond hair or what?! Captain man is a little weird sometimes......

Read more >

After tweets by the actors saying that they were going into production soon, I am excited to announce that Season 2 of Henry Danger is in now in prod…

Read more >
See more >