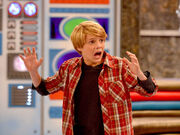 Henry Danger is an American crime-solving situational comedy created by Dan Schneider and Dana Olsen.
Plot
Henry Danger follows the life of a 13-year-old boy named Henry Hart, who lands a part-time job as Kid Danger, a sidekick in training to super crime fighter Captain Man. Their colorful adventures throw Henry's otherwise ordinary life absurdly out of balance, yet he must keep his new job a secret from his friends and family. However, one of his best friends, Charlotte, was smart enough to know that he was Kid Danger, and since then, also helps Captain Man. They have to hide it to their best friend Jasper and to Henry's little sister Piper.
Opening credits
Season 1-2
Henry: It all just kind of happened.
Captain Man: My dad was an irresponsible scientist.
Henry: I wanted an after-school job.
Captain Man: And by accident, he made me indestructible.
Henry: I went to this crazy store, and met a pretty interesting guy.
Ray: I'm gonna blow your mind.
Captain Man: So now I protect the good citizens of Swellview, who call me...
Henry: And he turned out to be...
Captain Man: You know the name.
Henry: Captain Man!
Captain Man: That's right, Henry. In time, I realized that being a superhero is a lot to handle alone.
Henry: He wanted some help.
Captain Man: I needed a sidekick.
Henry: I, Henry Hart...
Captain Man: Pledge to never ever ever tell anyone...
Henry: ...that I'm Captain Man's secret sidekick.
Captain Man: It is done.
Henry: Now, we blow bubbles.
Captain Man: And fight crime.
Henry: Feels good.
Season 3
Starting in Season 3, only Henry talks in the prologue of the opening credits. His voice is also notably deeper than it was two seasons ago.
Henry: It all just kind of happened.
I wanted an after-school job.
But then an indestructible superhero wanted me to be his sidekick.
Now, we blow bubbles and fight crime.
Feels good (As of Episode 5)
Cast
Main Cast
Recurring Cast
Minor Cast
Episodes
Main article: Episode Guide
Trivia
Ad blocker interference detected!
Wikia is a free-to-use site that makes money from advertising. We have a modified experience for viewers using ad blockers

Wikia is not accessible if you've made further modifications. Remove the custom ad blocker rule(s) and the page will load as expected.