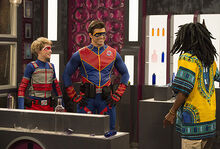 Glass From The Past is a place full of glass seen in Mo' Danger, Mo' Problems.
History
Captain Man and Kid Danger defeated Shaft here, who was about to rob the place. The fighting caused this place to be destroyed.
Trivia
There is an unknown employee who works at the cash register.
The store is open twenty four hours per day.
They sell antique glass bottles.
Ad blocker interference detected!
Wikia is a free-to-use site that makes money from advertising. We have a modified experience for viewers using ad blockers

Wikia is not accessible if you've made further modifications. Remove the custom ad blocker rule(s) and the page will load as expected.